App, photo, and operating system sizes are always getting larger. If you use an older Android device—or even the entry-level model of a newer device—you'll quickly find yourself hitting the storage limit.
There's nothing worse than whipping out your phone for a once-in-a-lifetime photo, only to be met with the dreaded Storage Full message. So how do you free up storage on Android? Keep reading for a list of tips and ideas.
1. Identify Storage-Hogging Apps
How many of the apps currently installed on your phone do you frequently use?
Sure, we all need an email client, some social media apps, a news app, and perhaps a game or two. But do you really need that random weather widget you downloaded or the app that distorts your face to make you look like your dog? Probably not.
Recent versions of Android make it easy to see which apps are the worst offenders. Navigate to Settings > Storage > Other apps. Wait for the list to populate, then tap the menu button in the top-right corner and choose Sort by Size.
Once you know what's taking up the most space, uninstall anything you don't need by heading to Settings > Apps & notifications > See all X apps.
2. Delete Offline Content
Lots of apps let you save content on your device so you can access it when you're offline.
For example, Spotify lets you save music directly to your phone. Some RSS readers let you save articles to read later, as do bookmarking services like Pocket. Podcast apps save audio files for offline playback, Chrome can even save webpages for offline access.
Saving content for offline use is great—if you have enough space. If you don't, you'll quickly start wondering where all your free space went.
A few prudent steps will fix this problem. Instead of downloading dozens of albums, try making a playlist on Spotify with just enough songs to cover your gym session or commute. Only open the notebooks you use most frequently on OneNote, and avoid downloading any huge files from cloud storage services.
To clear the offline content that you already have saved on your device, you have two options. You can clear app caches on a case-by-case basis by going to Settings > Apps and notifications > See all X apps > [App Name] > Storage and cache > Clear Cache.
Alternatively, you can use a reputable third-party tool that will clear app caches in bulk. SD Maid is one such tool.
Download: SD Maid (Free, in-app purchases available)
3. Move Photos to the Cloud
Google Photos will automatically back up all your photos to the cloud. As long as you're happy with a slightly lower resolution, they won't count against your Google Drive storage limits.
When looking at the photos on your device using Google Photos, it's easy to miss the fact that they're not saved locally. They're still accessible and viewable through the Photos app as long as you have an internet connection.
The app will even alert you when it can help save some space, with an on-screen notification making you aware that you're closing in on your storage limits.
If you think you're close to capacity, you can get the app to check on your behalf. Navigate to Google Photos > Menu > Free up space. The app will scan your phone, let you know how many photos have already been backed up, and advise you on which ones you can safely delete.
4. Move Content to an SD Card
Sadly, fewer and fewer devices now ship with an SD card slot. They're especially rare on premium phones.
There's a good reason for lack of SD support on modern phones: cheaper SD cards will not perform as well as more expensive ones because they have slower read/write times. But many users won't realize that their SD Card is at fault—they'll just think the phone is sluggish. That's bad publicity for manufacturers; they'd rather you just bought a more expensive model with more storage.
If you have a mid-range or budget device, it's more likely to have a slot for SD cards. This is fortunate, given that such devices typically offer less built-in storage than their more expensive counterparts.
Android is capable of formatting an SD card so it appears as internal storage on your device. Go Settings > Storage > [SD card name], then tap on the three vertical dots in the top-right corner and choose Storage settings. Select Format as internal to begin the process.
5. Take Advantage of the Google Files App
The Android storage manager app Files comes pre-installed on all stock Android devices. It's not as powerful as some of the best Android file explorer apps, but it does a decent job of letting you organize the downloads, shared files, and other documents on your phone.
One of the app's most overlooked features, however, is the Free up space tool. It's directly integrated into the Android Settings app. To use it, go to Settings > Storage and tap on Free up space.
The Files app will automatically open and start analyzing your storage. It will identify junk files, large files, old files, and anything else it thinks you can safely delete. You make the final decision of whether to complete the removal.
Download: Files (Free)
6. Android's Storage Manager Tool
If you don't trust yourself to keep up with these storage maintenance tasks, you can let Android do some of the work for you.
The native Storage Manager tool has been available since Android Oreo. Head to Settings > Storage and slide the toggle next to Storage manager into the On position. If you tap on Storage manager, you can customize the feature, including how long to keep backed up photos and videos on your delete before the local copy is automatically deleted.
Learn More About Android Storage
Keeping your device free of clutter is just one small part of knowing how to manage the storage on your Android device.
For example, did you know that it's possible to move entire apps to your SD card and away from your internal memory? If this isn't an option, check out more tips on using an old Android phone with little storage space.
Read the full article: How to Free Up Storage Space on Your Android Device
The ability to share your photos with family and friends is one of the best features of Facebook. However, it's important to present your Facebook photo albums in the best way. Your photos just won't look as nice if they're displayed in impersonal, cluttered albums.
To add some personality and order to your Facebook photo albums, here's how to customize, delete, and arrange your photos on Facebook.
How to Add Additional Photos to an Album
You already uploaded all of your pictures to Facebook in bulk, but what if you forgot a few? In case you need to go back and add more pictures to an album, Facebook gives you the option to add any photos and videos you missed. You can upload more pictures with just a few simple clicks:
Go to your profile.
Select Photos > Albums.
Click the album of your choice.
Hit Add Photos/Videos in the top-left corner of the album.
Select any additional photos or videos from your computer, and upload them to your album.
Now that you've uploaded those extra pictures, you can share even more memories with your friends and family.
How to Customize an Album Cover
After you create an album, Facebook automatically selects one of the photos as the album's thumbnail. This picture serves as the forefront of your album, so it should sum up the trip, experience, or occasion that you're documenting. If you want to change your album's cover, follow these steps:
Head to your profile.
Click Photos > Albums.
Select the album you want to edit.
Hover over the photo you want at the front of your album, and click the pencil icon in the top-right corner of the picture.
Select Make Cover Photo from the dropdown menu.
When you view your album on Facebook, you'll now see this image as the cover.
How to Delete Multiple Photos From an Album
If you don't want to deactivate your Facebook account, but want to get rid of several pictures for privacy reasons, you might want to delete multiple photos from your Facebook album. Facebook doesn't have a convenient bulk deletion option, so you'll have to delete each image one-by-one using this method:
Navigate to your profile.
Click Photos > Albums.
Select the album you want to edit.
Mouse over the photo you wish to delete, and click the pencil icon.
Hit Delete This Photo at the bottom of the dropdown menu.
It's a time-consuming process, but it's the only way to get rid of unwanted images.
How to Arrange Photos in a Facebook Album
Maybe you want to arrange the photos in a Facebook album so that your favorite pictures are at the beginning of the album. Or perhaps you want to organize your pictures by location, subject, or date. Either way, you have the freedom to change the order of the photos in a Facebook album by doing the following:
Open your profile.
Head to Photos > Album.
Click the album you want to rearrange.
Select Edit in the top-right corner of the album.
Hover over the picture you want to move.
Click and drag the photo to another location.
Hit Save after you're done.
As you move your pictures, you'll notice that the other photos in your album will automatically shift to accommodate the photo's new position.
How to Add Captions to Your Facebook Photo Albums
To give your Facebook friends some context for your album, you'll want to write some captions for your photos and album. Fortunately, Facebook streamlines the captioning process, and all you have to do is follow these steps:
Go to your profile.
Select Photos > Albums.
Click the album you wish to edit.
Hit Edit in the top-right corner of the album.
Write a description for your album in the box at the top of the album, or write a caption in the spaces under each picture.
When you're done, click Save.
In addition to adding captions to your pictures, you can also tag people in this menu by clicking someone's face, and searching for their name. You can also add a date or location by selecting the clock icon and GPS pointer icon underneath the caption box of each image.
How to Download a Facebook Photo Album
Downloading your Facebook photo albums lets you save your entire album to your computer. These simple steps will start the downloading process:
Open your profile.
Go to Photos > Albums.
Click the album you want to download.
Select the gear icon in the top-right corner of the album, and click Download Album > Continue.
Depending on how big your album is, it might take a few minutes to finish downloading. Keep in mind that there are quite a few ways to download Facebook photos and videos as well, using both third-party apps and official methods.
How to Move Photos to a Different Album
As you uploaded all of your pictures to an album, you might have accidentally uploaded a few that belong to a different album. To solve this issue, Facebook lets you easily move pictures between existing albums with these steps:
Open your profile.
Navigate to Photos > Albums.
Click the album that contains the pictures you need to move.
Hit Edit in the top-right corner of the album.
Mouse over the picture you want to move, and click the arrow in the top-right corner of the photo.
Select Move To Other Album from the dropdown menu.
On the next menu, choose the album of your choice, and hit Move Photo.
Hit Save when you have finished editing the album.
You can't move several pictures in one go, so prepare to do some repetitive work if you have several pictures to move.
How to Create a Shared Album
After attending an event with family or friends, you can create a new Facebook album with pictures of your favorite memories. To add even more photos to your collection, consider creating a shared album. This gives your Facebook friends permission to upload photos to your album, making it a great way to see more photos from different perspectives. Here's how to set up a shared album:
Head to your profile.
Click Photos > Albums.
Choose the album you want to share.
Select Add Contributor in the top-left corner of the album.
Enter the names of the Facebook friends you wish to add, and adjust the privacy of the album using the dropdown menu.
Hit Save when you're finished.
Your friends can now contribute to your album, and this shared album will appear on their timelines as well.
It's Time to Organize Your Facebook Photo Albums
You should now know how to organize your Facebook photo albums. And while doing so can be time-consuming, your family and friends will enjoy seeing the finished results
If you use the Facebook app on your smartphone, you might have noticed it's getting a little sluggish. In which case, you might want to learn more about Facebook Lite, and discover whether it can replace the standard Facebook app.
Read the full article: How to Customize, Delete, and Arrange Photos in Facebook Photo Albums
In Adobe Photoshop, filters are individual algorithms (or behind the scenes calculations) that alter the appearance of an image. For example, a simple filter might blur a selection, while an advanced filter could make a photograph look like a hand-drawn sketch.
In this guide, we explain what Photoshop filters are, and what each one does. Helping you make your images look better than ever.
NB: We used Adobe Photoshop 2020 for this article. The article also assumes a basic working knowledge of Photoshop's user interface, so it will not cover Video Filters, the Filter Gallery, or the Blur Gallery.
1. Photoshop Blur Filters
When you're trying to figure out the purpose of filters in Photoshop, the Blur category is the easiest one to explain. The general idea is to soften the image, but each particular filter under the category uses a different softening approach.
Average
This filter finds the average color within a selection, then fills the entire selection with that color.
Blur
The blur filters average out the pixels next to hard lines and defined edges. This effectively smooths the transition of those edges and reduces noise.
Blur More
Blur More does the same thing as Blur, but it increases the effects of the Blur filter and makes them more visible.
Box Blur
With Box Blur, every pixel is softened by the average color of its neighboring pixels within a set radius. The larger the blur radius, the stronger the effect.
Gaussian Blur
Gaussian Blur is a quick blur tool that uses the weighted color average of all pixels in a selection. The resulting effect is similar to looking at the original image through a hazy-but-translucent screen.
Lens Blur
Lens Blur replicates the depth of field that one can get when using a camera. If you are confused over the purpose of various filters in Photoshop, especially this one, in simpler terms it means:
Lens blur helps certain objects stay in focus, while others are blurred out. It's almost as if you're seeing objects at a distance, and your eyes are focusing on particular things.
To learn more about this phenomenon, check out our beginner's guide to digital photography.
Motion Blur
Motion Blur is the ability to blur a picture in a particular direction at a given intensity. It can sometimes look like the blur that you see when an object is moving very fast. Think of it like taking a photo with a very long exposure time.
Radial Blur
Radial Blur creates a blur that moves in a circular direction, either using Spin mode (as if the image were spun around a certain point), or in Zoom mode (as if the image was rushing at you).
Shape Blur
"Shape" blurs an object according to a custom design. You can find several custom shape presets available right out-of-the-box on Photoshop, but there are plenty of third-party apps, too.
Smart Blur
Smart Blur blends similar pixels together according to a given threshold. This often creates a pastel effect that flattens the image. The larger the threshold, the flatter the image.
Surface Blur
Surface Blur blends pixels together, but avoids edges or leaves those edges intact. It's great for smoothing out an object's appearance without losing its shape or definition.
2. Photoshop Distort Filters
While the previous section might have seemed long, in fact, we're just getting started. There are still a lot of filters in Photoshop to cover!
After Photoshop's Blur filters, the Distort category comes in. Distort provides reshaping effects to an image. Basically, it takes the image and "moves" the pixels around without any kind of blending or blurring. Here's a list of what each preset does:
Displace
Displace shifts the pixels according to a displacement map. A displacement map is a special kind of image that dictates the movement of each pixel.
Pinch
The Pinch filter squeezes the outside of an image towards the center of that image, as can be seen below.
Polar Coordinates
Polar Coordinates convert the position of an image's pixels from rectangular coordinates to polar coordinates. This makes the image look like it's being reflected off a metal sphere.
Ripple
Ripple alters the selection so that it looks like the image is rippling along the surface of a body of water.
Wave
Wave is a more advanced version of the Ripple filter. It provides greater control.
Shear
Shear transforms an image along a hand-drawn curve, which makes it great for custom images.
Spherize
This filter makes the selection look as if it's bulging out of the screen in a spherical shape.
Twirl
Twirl spins the selection around its center, but does this action more intensely towards the center, and less intensely on the edges.
Zig Zag
Finally, Zig Zag distorts a selection radially around the center. However, it uses a zig-zag pattern instead of straight circles.
3. Photoshop Noise Filters
In image processing, "noise" refers to pixels that have incongruous color values. In many cases, these colors are randomly distributed. Think of it as a marriage between television static and a kaleidoscope.
Add Noise
Add Noise creates pixels of random colors all across the image. Pixel distribution can be Uniform (strictly random), or Gaussian (according to the bell curve). It can also be monochrome.
Despeckle
Despeckle removes noise by blurring the image everywhere except where the edges are detected. Edges include any areas that have significant changes in color.
Dust and Scratches
This filter reduces noise across an image by finding areas where dissimilar pixels are located. It then adjusts them to be more similar.
Median
This filter looks for pixels of similar brightness within the selection area, then discards pixels that are too dissimilar and applies a median brightness.
Reduce Noise
This filter preserves edges while reducing noise across an image.
4. Photoshop Pixelate Filters
Photoshop Pixelate filters take a group of pixels and turn the colors the same shade, which effectively makes them into one bigger "pixel" in turn. However, as always, different filters within this category take different approaches to how pixel groups should be combined.
Color Halftone
This filter replicates the halftone effect by converting the image into a series of dots of varying sizes. Dot size is proportional to the brightness of that area in the image.
Crystallize
This filter combines pixels in certain areas to form a pattern of large, single-colored polygons, imitating a crystallization effect.
Facet
This filter groups similar-colored pixels together while retaining the general shape and form of the image.
Fragment
Fragment takes every pixel in the selection, then:
Multiplies that number by four.
Takes the average color value.
Offsets it from the original pixel position.
The result is something similar to a double-vision effect.
Mezzotint
Mezzotint is a feature that roughens up an image according to one of several patterns that you can choose from. Black and white patterns are used in grayscale images, while saturated colors are used in color images.
Mosaic
Looking for an easy way to make pixelated art? Mosaic groups similar pixels together into square blocks. Each block becomes one color that represents all of the pixels that were joined to form that block.
Pointillize
This filter fills up the image with the current background color, then recreates the image using dots while leaving a few small spaces empty.
The final result resembles a pointillism painting, as can be seen below.
5. Photoshop Render Filters
Unlike the other filters in Photoshop that we listed, Render generates entirely new effects from scratch that are independent from the image itself.
Clouds
This filter creates a cloud-like pattern using the current foreground and background colors.
Difference Clouds
This filter does the same thing as the regular Clouds filter, but follows it up by applying the resulting cloud pattern to the current selection using the difference blending mode.
Fibers
The Fibers filter is a really neat tool that creates a cloth-like pattern, using the current foreground and background colors.
Lens Flare
Circular Lens Flare simulates what happens when a light is shined into a camera.
Lighting Effects
This filter transforms the image as if different kinds of lights were being shined on it. It comes with 17 different presets, but you can also create your own.
6. Photoshop Sharpen Filters
This group is the opposite of the Blur category. When an image is sharpened, pixels of similar colors are altered to improve contrast, which reduces the appearance of softness.
Shake Reduction
Shake Reduction is a handy filter that helps you reduce the shaky camera motion or blurring effect that you sometimes see in photographs.
Sharpen
This filter improves clarity by reducing blur and increasing contrast.
Sharpen More
This filter has the same effect as Sharpen, but amplifies and makes the filter effects stronger.
Sharpen Edges
This filter detects any edges in an image. Then it sharpens them by increasing contrast, while non-edges are left untouched.
Unsharpen Mask
Similar to Sharpen Edges, this filter provides variables that you can adjust for more precise control over the contrast adjustment.
Smart Sharpen
This is a more advanced algorithm for sharpening. It grants you control by opening up a brand new dialog box and letting you adjust the variables involved.
7. Photoshop Stylize Filters
Stylize filters are probably our favorite filter category, in that these filters creates some of the most memorable effects.
Diffuse
Diffuse moves around pixels to soften the focus of a selection. There are four different categories of Diffuse filters: Normal, Darken Only, Lighten Only, and Anisotropic.
Emboss
Emboss makes a picture look like an object has been raised on a metal surface by converting all fill colors to a monochrome shade.
Extrude
Makes a selection look 3D.
Find Edges
Locates the edges in an area, traces them, and creates an outline around that image.
Oil Paint
The Oil Paint filter is a perfect filter for any budding artist to try out. With this filter, you can turn any selection or image into an impressionist painting.
Solarize
Solarize takes an image and blends its negative and positive values together.
Tiles
Tiles takes an image and cuts it up into multiple squares.
Trace Contour
This filter locates the brightest areas in your image and outlines them to create a contour map.
Wind
Lastly, wind breaks up your image along a horizontal grid to create a "windblown" look.
Use These Photoshop Filters to Improve Your Images
Filters are a foundational component of Photoshop, and learning what each one does is a significant step towards mastery of the program.
Without any knowledge or experience with Photoshop filters, your Photoshop skillset is more limited than you might think. So don't be afraid to scroll up and study them again.
After that, you should check out these essential Photoshop editing tips and tricks. We also recommend reading up on Adobe's Photoshop tutorial series on YouTube.
Read the full article: A Newbie's Guide to Photoshop Filters and What Each One Does
Google Earth is a program and online tool to view the Earth in 3D. You can spin the globe and visit anywhere you want, right from the comfort of your home.
Not only can you view the Earth from above, but you can also roam its streets too. You might be wondering how Google Earth collects all these images.
We're going to tell you how Google Earth gets its images and how often Google Earth is updated.
What is Google Earth?
Google Earth lets you view a 3D representation of the Earth. You can freely spin the globe and zoom in to explore places. Alternatively, you can input a location name, address, or coordinates.
It's different from Google Maps. "Google Maps is about finding your way. Google Earth is about getting lost," says Gopal Shah, Google Earth's product manager.
You can even go on a virtual tour of the world with Google Earth.
Google Earth combines all of Google's powerful mapping tools. You can see place names, road markings, weather data, and more, all from within the tool.
Not only can you view flat satellite imagery, but you can also tilt the camera to get a 3D perspective. This isn't available everywhere, but it's an awesome experience for major cities and landscapes.
Google Earth is available for browsers and for desktop. The desktop version offers more features, so that's the one to use if you want to get the most from Google Earth. However, Google eventually intends to make the browser version the de facto choice.
The History of Google Earth
Google Earth's technology was first developed by Intrinsic Graphics before the turn of the millennium. The company was focussed on 3D gaming software libraries and it developed a demo of the spinning globe that you could zoom into.
Intrinsic Graphics span out into another company called Keyhole, which sold mapping software to companies in industries like urban planning and defense. The company was struggling until it struck a deal with CNN. Keyhole's logo was prominently displayed during the analysis of the 2003 invasion of Iraq, which gave them a needed publicity boost.
A year later, more than 25% of Google searches were related to maps or directions, and so Google bought Keyhole and went on to create Google Earth.
How Are Google Earth Images Collected?
Google Earth collects images through a variety of methods like satellite, aerial, and Street View photography.
Satellites give the 2D global view of the Earth. These images are collected through lots of different third parties. As you view Google Earth, look at the bottom of the screen and you'll see the copyright data. This tells you which company (or companies) provided those images.
For 3D photography, Google flies special aircraft that have lots of mounted cameras that can capture the necessary data and detail. This is only possible in areas where local and federal regulations permit it.
The Street View photography is what you might be familiar with from Google Maps. This is collected by cars mounted with cameras that literally drive around and capture the images.
How Often Is Google Earth Updated?
Google Earth doesn't provide live imagery, so you can't zoom in to your current location and wave at the camera. Instead, it creates a whole image of the Earth by piecing together millions of static images.
Google collects some of its images from third parties, so the rate at which it can update parts of Google Earth is reliant on others.
There's no schedule for how often Google Earth updates its images and there are various factors to take into account. Here are the main ones.
1. Location
Areas of interest or high density are more likely to be updated than rural villages. This is because these areas are prone to greater change, but also because these areas are the most frequently searched and viewed by users.
For example, New York will often be updated with high detail images because Google can fly their aircraft to collect imagery and there will be many third-party companies to provide satellite imagery.
2. Security
Some locations are rarely or never updated due to security reasons. The images of these places may be old, blurry, or entirely blacked out. This is often due to requests from governments or personal lawsuits.
Google might also stop updating a certain area if they discover that the imagery is being used for military intelligence or crime. The same goes for "no fly" zones and conflict areas.
3. Time and Money
Time and money are scarce resources. When you zoom in on Google Earth, to the point where you can see your car very clearly parked on your driveway, then that's the work of aerial photography. However, if your house is a barely discernible brown blob amidst a landscape of psychedelic blurs, then that's the work of a satellite suspended above the equator.
Obviously, it takes time for these aircraft to run those photography update missions. They are also run by a number of private companies, not by Google itself, so getting all these images pieced together takes even more time.
Not only does it take time, but it also costs money to collect these images, compile them, edit them, and upload them.
4. Weather
There's no point snapping photos of a place that is constantly covered by clouds. There'd be nothing to see! As such, it can sometimes take time for Google to get clear shots that aren't impeded by the weather.
An example of this is London. When Google wants to fly their aircraft to snap high resolution photos, they have to wait a long time to capture photos when it isn't raining or overcast.
Request an Update to Google Earth Images
You can ask Google to update an image on Google Earth.
First, navigate to the area that you would like to see updated. You then need to use the feedback tool. On the browser version, click the three horizontal lines icon, then click Feedback. On the desktop, go to Help > Send Feedback.
In the text field, input: I would like to recommend an imagery refresh.
Google compiles these requests to understand user interest. Sending a feedback request doesn't guarantee that the image will be updated soon since it still depends on factors like image availability from third-parties and weather conditions.
How to View Historical Google Earth Images
You must use the desktop version of Google Earth if you want to view historical images.
To do this, navigate to the area that you want to see historical images for. Then, click the clock icon in the top toolbar.
This places a slider in the top left of the screen. Click and drag this slider to move between different date ranges. Remote or less populated parts of the world will probably have fewer date ranges to choose from.
Since Google Earth compiles its images from various sets, the date range shown is the earliest from that set. Hover your cursor over the Earth and look at the Imagery Date information at the bottom of the screen to see the exact date of when that section was updated.
Also, take note that the 3D buildings won't disappear automatically when viewing the old images. This means you'll see things like the London Eye, which completed construction in 2000, appearing alongside 1945 images of London. To resolve this, deselect 3D Buildings on the Layers section to hide these for accuracy.
View Your House Using Google Earth
Google Earth is an incredibly powerful tool. We're lucky to be able to view some of the world's wonders and hidden corners with just a click. As it gets updated, it'll continue to be an excellent historical record of how our Earth has changed.
For more tips on using Google Earth, here's how to get a satellite view of your house with Google Earth.
Read the full article: How Often Is Google Earth Updated?
Don't judge a book by its cover. But in the online dating world, a picture is often all you have to go by.
Picking good profile pictures is the key to success in finding matches. It's a lot of pressure—especially if you don't like photos of yourself. Fortunately, major online dating companies regularly complete surveys to figure out exactly what users find attractive. Based on this research, you'll have the best dating profile pictures in no time!
The Dating Profile Pictures to Avoid
Avoid the following photos as they often lead to immediate rejections.
Photos with your ex: If a potential match thinks you're already in a happy, monogamous relationship, it doesn't matter how good you look in the photo. Writing "the girl in my pic is my ex lol" in your profile doesn't matter. In fact, you look like you have unresolved history.
No photos of your face: People want to know who they're talking to. A beautiful backdrop is great, but stunning landscapes shouldn't occupy your whole profile. Not having any photos at all of yourself on a dating profile makes it look like you have something to hide.
Obvious image manipulations: People want to know what you actually look like. They're not going to date Photoshop.
Do I Need to be Attractive to Use Online Dating?
Attractiveness isn't a deal-breaker when it comes to online dating. Seriously!
In fact, OKCupid found that being too attractive might result in receiving fewer messages. This holds especially true for men. Average or below-average-looking people are more likely to receive messages from women.
Getting more messages doesn't mean finding an offline connection quicker. People who receive a lot of messages tend to spend less time replying, making it difficult to get to know each other.
It's also hard to quantify what these labels mean: your "average" might be someone else's "very attractive". To be clear, your attractiveness is unlikely to be the core reason your profile doesn't get attention.
EHarmony reiterates that, while a decent profile photo may start a conversation, a good personality that leads to genuine connections is more important.
Don't use too much make-up either. Censuswide did an online dating survey in the U.K with 1000 respondents that revealed 72 percent prefer you to wear no make-up at all over wearing lots of it.
Should You Use Selfies in Online Dating Profiles?
You might not want your friends to know you're trying online dating. That's why so many are keen to avoid linking Tinder with Facebook. Selfies might seem a necessity, and that's probably a good thing for women. Why? The London School of Medicine found that the most effective photos for women are often selfies taken with your head tilted slightly.
However, men receive eight percent fewer matches when including selfies.
Make sure you can clearly see your face in pictures: A Tinder photo tip says that profiles that open with a full shot of your face get 27 percent more likes.
Full-body shots are a winner—86 percent of men and women agree—as are medium shots, which include your face and torso against an interesting (but not distracting) background. These give potential matches a good sense of body type.
Just don't take them in front of a mirror. Zoosk found that 29 percent of women actively dislike mirror selfies. And definitely don't take a selfie in the bathroom. These result in 90 percent fewer likes.
Which Photos Should You Use in Online Dating Profiles?
The best profile photos lead to conversations. But what kinds of photos are most likely to do that?
Simply taking a photo outside can lead to 19 percent more messages for men because you're putting in some extra effort. According to eHarmony, other great conversation starters with your date include photos that indicate interests in politics, travel, exercise, or theater.
how all middle aged men take selfies for their profile pic pic.twitter.com/eLs2qlDqLl

— gary from teen mom (@garyfromteenmom) December 23, 2019
If you have a cute dog, pose with them in a picture. In the battle of dogs versus cats, dogs are the clear winner in the dating world: you'll get 53 percent fewer messages while posing with a cat than if you're on your own.
It's a different story for women. The same study shows that the most attractive interests for women to showcase include personal growth, health, family, dancing, and art. Being photographed indoors is also, strangely, more attractive.
Beware: women with pets in their photos get fewer matches, on average.
A love of food is similarly appreciated by women and men, so don't be afraid of using a shot in a restaurant.
Should You Include Group Photos on Your Dating Profile?
Many include group shots in their profiles, but you're advised not to. You might get lost in the crowd. Imagine if you match with someone who thinks they're actually talking to one of your friends!
This isn't a deal-breaker, however. Pictures with other people can demonstrate your likeability, show that you have a social life, and prove you're not a Tinder bot.
If you're especially keen, make sure a group shot isn't the first image matches see. Group shots confuse those viewing your profile for the first time. They have no way of knowing which of those individuals you are.
Don't overcrowd a picture. Certainly don't have more than four individuals in a picture. And make sure you stand out. If you're blonde, post a picture where you're the only blonde person in the frame, for example.
The same is true of backgrounds: you should be in the most interesting thing in the image, right in the foreground, and nothing should distract from you.
Family photos—providing they're not cheesy—can work well, as women and men typically find familial closeness attractive. Photos where you pose with your mum actually have a seven percent higher match rate than those without. You might feel guilty using your own mother like that though.
Should You Smile for the Camera?
This is harder to answer because sources disagree.
For women, a flirty smile aimed at the camera works because potential matches feel a connection when you seem to lock eyes.
Tinder reports that smiling increases your chances of a match by 14 percent, so think about that next time you start pouting for the camera. In fact, pouting is a turn-off, pretty much universally.
Women are 47 percent more likely to smile in photos than men, and that's a good thing. Statistics show men are best looking away from the camera without a smile, although not in every picture. You need to show your eyes in some photos, to strengthen potential connections.
Then again, Tinder reports 10 percent more likes when a primary profile picture includes a small, regardless of gender.
In conclusion: do what works for you. If you think smiling is a more accurate portrayal of your character, you should smile!
The real problem is when grins look fake. That means some of the best are taken with you off-guard. You'll look warm and comfortable. Don't come across as creepy. If you smile, squint slightly so it looks more natural than having googly eyes.
Which Photos Should You Choose For Online Dating Profiles?
You need to post more than one picture. Four photos give a well-rounded perspective of your life.
But which photos should you choose? Here's an example of an interesting camera roll:
Your first picture needs to be of you—and only you. This should be the most flattering photo you have. First impressions take less than one-tenth of a second. In that time, people subconsciously judge attractiveness, how trustworthy you are, and what your personality is. These really matter, especially on dating apps.
Your second photo should show you taking part in an activity. Be casual and confident. Show you're comfortable being yourself.
A full- or medium-body shot against an interesting backdrop. Make sure you clearly show your head and torso at least. The best option is a full-body shot. Zoosk says that a full-body photo of yourself increases the number of messages you receive by 203 percent!
Use another photo of you participating in a hobby. Vacation photos demonstrate ambition and a love of life. Or if you're a guy, pose with a dog.
Some services require more images. Hinge, for instance, asks for six, although one can be a video. Nonetheless, you should avoid oversharing. Ideally, include enough to start a conversation. Having more than six can make you seem egotistical. You risk eliminating any mystery and mixing in too many mediocre photos that detract from your strongest looks.
Online Dating Photos: What Not to Do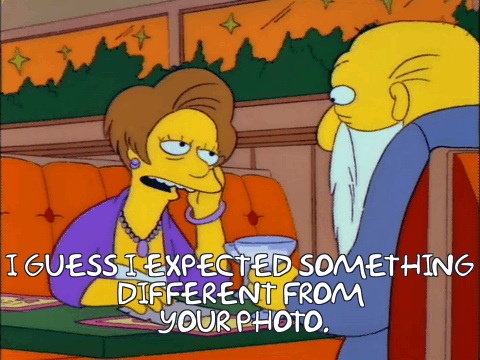 "Be yourself" is good advice, in all walks of life. But what else shouldn't you do?
Don't take gym selfies. You risk looking self-obsessed. And most gym-users are sweaty and tired, which isn't a good look. On Tinder, profiles with gym selfies get 5 percent fewer likes.
Don't wear sunglasses. Matches like to see your eyes. Remember, they're the windows to the soul. Otherwise, you look like you're hiding something.
Don't use old photos. No one appreciates low quality images, and potential matches will doubt you still look like you did in 2007.
Don't include a photo of an inanimate object. This sounds like an obvious one, but people don't want to see your car. They're interested in dating you, not a chunk of metal.
Most Importantly, Look Like Yourself
In the end, the goal of online dating is to meet up in real life. If your profile doesn't accurately represent you, it doesn't matter how perfect it is statistically!
Making tweaks to improve your chances is fine. Pretending to be someone you're not is not. And once you have matched with someone on Tinder, make sure you stay safe when you meet for a date.
Read the full article: The Perfect Online Dating Profile Picture, According to Research
Most people juggle a great deal of information and responsibility, and it's near-impossible to get by keeping everything in your head. Thus, you can benefit from using a to-do list.
Fortunately, there's no shortage of to-do list apps for Android in the Play Store. Here are some of the best.
1. Google Assistant
Google Assistant has really pulled ahead of other companies' smart assistants in quality. You can use it to automate your home, make shopping lists, and much more.
From a to-do list standpoint, you can add tasks to your various lists with simple Google Assistant voice commands. And if you set up the appropriate IFTTT applet, you can even automatically email a list of new tasks to yourself at the end of each day.
Check out our guide to getting started with Google Assistant to learn more.
Download: Google Assistant (Free)
2. Todoist
Todoist isn't big on visuals. Its interface is flat, white, and largely bare.
The app offers a free version as well as Todoist Premium ($3/month). In the free version, you have the ability to organize tasks into projects, create sub-tasks, leave notes, and change priority levels.
The pro version adds labels and filters, automatic backups and reminders, attachable files, iCal syncing, and productivity tracking tools.
Download: Todoist (Free, subscription available)
3. Google Keep
Sticky notes are one of the most trusted to-do list managing methods around. Google Keep digitizes this approach into a friendly form for PCs and mobile devices.
You can jot down a reminder onto a single note or create basic lists with checkable items. If you don't want to forget about a particular task, you can tell Keep to shoot you a notification at a time of your choice.
Download: Google Keep (Free)
4. Zenkit To Do
Zenkit To Do is a simple and streamlined to-do list and task management app. Some of the standout features include folder support for list organization, the ability to @ mention other users, cross-device synchronization, and 2FA login.
The app will also appeal to anyone who's looking for a Wunderlist alternative; the once-popular app finally shut down for good in May 2020 following Microsoft's 2015 buyout. You can move all your Wunderlist data into Zenkit To Do thanks to the dedicated import tool.
And remember, Zenkit offers a suite of recommendable productivity apps, including a Kanban board and a Gantt chart. Tasks you create in the app will sync across all the products.
Download: Zenkit To Do (Free)
5. Microsoft To Do
Microsoft purchased Wunderlist so it could integrate many of Wunderlist's features into its planned to-do app, Microsoft To Do.
Today, Microsoft To Do is three years old and better than ever. It's the perfect Android to-do list app for anyone who exclusively uses Windows, thanks to its tight integration with the operating system and Microsoft's other productivity apps.
Of course, many Wunderlist users would argue that some of the old app's best features are still missing. To Microsoft's credit, however, the app is under active development, with new features rolling out on a near-monthly basis.
Download: Microsoft To Do (Free)
6. TickTick
TickTick is a relative newcomer, but it's quickly become one of our favorite to-do list apps for Android.
One of its standout features is the availability of smart lists. These can pull tasks from all your projects based on parameters of your choosing. Other key features include separate notes and comment sections, support for attachments, a calendar view, and repeat reminders.
The $28 per year pro plan introduces revision history, sub-task reminders, and calendar integration.
Download: TickTick (Free, subscription available)
7. Remember The Milk
In contrast to TickTick, Remember The Milk is the oldest app on this list. All the features you expect—such as labels and folder-based hierarchies—are present. But it's the app's recent features that allow it to compete with services like Todoist.
For example, there's integration with Gmail, Google Calendar, Twitter, Evernote, and more. You can also dig into the official Remember The Milk IFTTT page to find applets that link Remember the Milk to other services.
The $40 per year pro version will give you colored tags, advanced sorting, file attachments, and new themes.
Download: Remember the Milk (Free, subscription available)
8. Google Tasks
Google gets a second entry on the list thanks to Google Tasks. It offers a more traditional to-do list interface than Keep's sticky note approach. Think of it as Google's answer to Microsoft To Do.
You get due dates, checklists, reminders, subtasks, and drag-and-drop task prioritization. Google Tasks also integrates with the rest of Google's app universe. For example, you can use the app to create tasks directly from emails or make your tasks pop up as reminders in Google Calendar.
Download: Google Tasks (Free)
9. Any.do
Any.do has been one of the best to-do list apps for Android for many years. It offers all the standard features—reminders, cross-device syncing, and deadlines—but the integrated calendar is where the app really shines.
Its inclusion means you only need one app to keep both your agenda and tasks in sync. You can pull calendar data from Google, Slack, Salesforce, Alexa, and more.
Any.do also supports voice notes, location-based alerts, notes and file attachments, and even a family organizer.
Download: Any.do (Free, subscription available)
10. Trello
There is no "right way" to organize your to-do lists; you have to do whatever works for you. If you find that regular tasks management apps aren't for you, you could try an entirely different approach to your note-taking and task management workflow.
One of the most popular alternative methods is the Japanese Kanban system. It uses cards to track and log the progress of tasks and chores.
The leading digital version of the Kanban method is Trello, which is available on Android. Check out our list of Trello tips if you'd like to learn more.
Download: Trello (Free, subscription available)
Plenty of To-Do Lists to Try
Plenty of other apps deserve an honorable mention. For example, some people swear by all-in-one note apps like OneNote and Evernote; others prefer the simplicity of a simple text file that you sync to your devices via a service like Google Drive.
If you have trouble understanding the appeal of a to-do list at all, maybe you should consider how a to-do list can help you be productive.
Read the full article: The 10 Best Android Apps for Managing To-Do Lists
When you think of hackers, you may imagine the Hollywood-styled expert who tries to break through a computer's defenses. However, a side-channel attack lets a hacker extract information from a device without even touching the system's security.
Let's take a look at what a side-channel attack is and what it means to you.
What Is a Side-Channel Attack?
Let's say you live with a housemate who calls someone every so often. To do this, they use a landline phone with physical buttons. Your housemate is very secretive about whom they're calling, but you're curious.
You could watch them dial the number, but what if you don't need to do that? What if instead, you could somehow get the number by monitoring non-visual signals, and how would you go about doing that?
One solution is listening for the dial tone every time your housemate presses a key. Because each key makes a different tone, you can then reverse-engineer the sounds to figure out which key was pressed.
You may be able to measure the time it takes for your housemate to move their finger from one key to an adjacent one. Then, when your housemate dials the number, you measure the time gap between each press.
If the gap is equal to your measurement, the number they just pressed was adjacent to the last one. A longer delay meant the next number isn't adjacent, while two rapid taps signal the same number pressed twice. Then, you can compute all the possible numbers that fit the timing pattern and use that data to work out whose number it might be.
You could learn what each key sounds like when pressed. Perhaps the three key has a heavier "clunk" to it, and the nine key emits a slight squeak. When your housemate dials the number, you monitor the noises and work out what was dialed.
These methods define what a "side-channel attack" is. It's a way of extracting data without directly breaking into the device. This may seem very extreme, but computer side-channel attacks go far deeper than listening to button presses!
Different Kinds of Side-Channel Attacks
Now that we know how a side-channel attack works, let's take a look at some different categories of attack that hackers can use.
Uncovering Algorithms With Timing Attacks
First, timing attacks analyze the amount of time it takes for a process to complete. This is similar to counting your housemate's dialing time and comparing it to what you know.
The hacker will feed the algorithm different inputs and watch how long the process takes for it to chew it over. From this data, they can piece together the potential algorithms that match the timing data and find a solution.
In the above video, Joe Grand creates a device with a four-button combination lock. After entering the code, the device compares the first part of the user's input with the first part of the correct code. If it's right, it compares the second press with the combination, and so on. If it's wrong, the device immediately stops processing.
As a result, if you test all four buttons as the first input, the correct one will take slightly longer to process. Incorrect entries cause only one comparison to happen, as the device stops immediately after the first one. However, a correct first entry will cause the device to move onto the second one, which takes longer.
Once you know what the first button is, you can then try combining it with each possible second entry, then the third one, etc. As long as you keep the entry that takes the longest to process, you'll eventually discover the code.
Timing attacks were a major part of the Meltdown exploit. It analyzed how fast the cache was read and used the results to read the data for itself.
Checking Processor Usage Via Power Analysis
A hacker may monitor how much power a component is using to see what it's doing. If a component is using more power than normal, it's probably computing something important; when it consumes less, it's probably moving to the next computational phase.
A hacker could even use power signatures to see what data was being sent. For example, on AnySilicon, they show a power chart that reveals a component sending binary data. A small bump of power is zero while a taller bump is a one.
Listening Out for Clues With Acoustic Analysis
Acoustic analysis is when a hacker listens to audio patterns coming from a device and uses the results to piece together information. In the above phone example, listening to the dial tone or button-presses would be an acoustic attack.
There have been a few studies that test the feasibility of an acoustic attack. One study listened to the sound of a printer to gauge what was being printed and achieved a 72 percent accuracy rate. This shot up to 95 percent if the attacker roughly knows what the document is about.
Another study, called SonarSnoop, turned phones into sonar devices. The study made phones emit a sound inaudible to human ears through the speaker, and recorded an echo via the microphone. The sonar echo would let the attacker know of the victim's finger location on the screen while they're drawing their unlock pattern, thus revealing how to unlock the phone.
Monitoring Background Waves With Electromagnetic Analysis
Electromagnetic (EM) analysis monitors the waves given off by devices. From this information, an attacker can decipher what the device is doing. At the very least, you can tell if a device is nearby; for example, you can use a phone to find hidden surveillance cameras by finding their EM waves.
There's also a study that looks at IoT devices and their EM emissions. The theory is that forensic teams can monitor suspect devices without needing to hack into them. This is important, as it allows law enforcement to monitor suspicious activity without leaving a trace.
How to Protect Yourself From Side-Channel Attacks
Unfortunately, there's no easy way to make your PC invulnerable to side-channel attacks. As long as it uses power, emits radiation, and creates sound during operation, it's ripe for a hacker to analyze.
However, what you can do is prevent a hacker from performing the attack in the first place. For example, take the SonarSnoop program that can detect login patterns on phones. If this program was in the wild, it would likely take the same distribution channels as any other piece of malware. It would be found hidden in malicious apps and programs waiting for someone to download it.
As such, while you can't prevent your devices from emitting telltale signals, you can prevent the installation of software programmed to monitor said signals. Keep your anti-virus tools up-to-date and practice good cybersecurity hygiene and you should be fine.
Keeping Your Hardware Safe
Side-channel attacks are scary, as they prove that attacks can occur without your knowledge. However, you can do your part to prevent hackers from gaining a foothold on your system and monitoring it for private information.
If you want to take further steps to keep your hardware safe, why not secure your computer to protect it from theft?
Read the full article: What Is a Side-Channel Attack? How Hackers Crack Security Without Touching It
It isn't always easy to know how to pronounce someone's name correctly. Especially when you only see it written down. However, pronouncing someone's name wrong can be a major faux pas, especially when you're trying to create a good first impression.
Creating a good first impression is especially important when you're searching for a new job. Which is why LinkedIn has launched an audio recording feature which helps you help others pronounce your name correctly. And it's available now on Android and iOS.
How to Help People Pronounce Your Name on LinkedIn
The feature works by you recording how to pronounce your name. You can then add that audio recording to your profile, where others can click on it. Which means that before they've even connected with you, they should know how to pronounce your name.
To record and display your name pronunciation on Android or iOS:
Tap your profile picture then View Profile.
Tap the Edit icon (a diagonal pencil) from your introduction card.
Tap + Record Name Pronunciation.
Tap the recording button and hold it down to record you pronouncing your name.
When you're satisfied, tap the Use button followed by Save.
You can only record audio on Android or iOS. However, playback is available on all platforms. Audio recordings are limited to 10 seconds, and LinkedIn recommends you limit background noise, speak slowly and clearly, and hold the phone away from your mouth.
More Help Making a Good First Impression on LinkedIn
If you can't yet see the option to record audio on LinkedIn, be patient, as the company is rolling it out to all users worldwide over the next month. However, if you do have the option, it should only take a few minutes to help other pronounce your name correctly.
For more help making a good first impression on LinkedIn, here's how to upload your resume the right way and how to message recruiters the right way. Hopefully, with our help you should avoid making the mistakes that could put companies off hiring you.
Image Credit: Nan Palmero/Flickr
Read the full article: How to Help Others Pronounce Your Name Correctly on LinkedIn
NVMe SSDs are built for speed. Whether you're gaming or using a demanding program, NVMe SSDs can push your computer's performance to the next level.
Swapping out your sluggish hard drive or standard SATA SSD for an NVMe SSD can make a substantial difference in your PC's performance—shorter load times and speedy boot-ups are just some of the benefits of having an NVMe SSD.
If you're thinking about upgrading your storage, we've laid out a list of the best NVMe SSDs for you to choose from.
What You Need to Know About NVMe SSDs
So, what makes NVMe SSDs such a big deal? After all, you don't necessarily need an NVMe SSD if you're just using your PC for browsing the web. And if your computer doesn't have the right specs, installing an NVMe SSD can result in bottlenecks.
Despite all of this, NVMe SSDs are still worth your while. Unlike your typical SSD, NVMe SSDs don't connect to your motherboard with a SATA cable. Instead, they operate off a direct link with your motherboard, allowing them to read and write data even faster than standard SSDs.
Before you buy an NVMe, make sure that your motherboard is compatible with these ultra-fast drives. NVMe SSDs fit into the M.2 PCIe slot that you can find on most newer motherboards. At this time of writing, the vast majority of NVMe SSDs are made for the PCIe 3.0 platform. However, there are only a handful of NVMe SSDs compatible with the PCIe 4.0 platform, which is only available on AMD motherboards (for now).
If you happen to have an unused slot on your motherboard, upgrading to an NVMe SSD is well worth it. These drives have lowered in price over the years, making them affordable for the average gamer and tech enthusiast.
Samsung 970 EVO Plus
Samsung 970 EVO Plus
Buy Now On Amazon
$174.79
With read/write speeds up to 3,500/3,300MB/s, the Samsung 970 EVO Plus is hard to beat. It offers a significant improvement in performance for a slightly higher price than standard NVMe SSDs.
Samsung is known for its line of reliable products, and this NVMe SSD definitely fits the bill. You can expect high endurance and consistency, whether you opt for the less expensive 500GB model, or go with this 1TB upgrade. Plus, the inclusion of a five-year warranty makes this drive a great deal.
Sabrent Rocket
Sabrent Rocket
Buy Now On Amazon
$149.98
For a powerful NVMe SSD at a reasonable price, you can't go wrong with the Sabrent Rocket. This high-performing NVMe SSD operates at a read/write speed of up to 3,450/3,000MB/s and offers superior efficiency that you wouldn't expect to see on a drive with this pricetag.
Once you register your product with Sabrent, you can benefit from a five-year warranty. The only downside to the Sabrent Rocket is that it uses 4K byte sectors and doesn't offer 512-byte emulation. In other words, you might have to do a little extra work if you're trying to clone an old drive.
Western Digital Black SN750
Western Digital Black SN750
Buy Now On Amazon
$149.00
The Western Digital Black SN750 is the company's leading NVMe SSD, as it boasts a maximum read/write speed of 3,470/3,000MB/s. This lightning-fast speed is six times quicker than Western Digital's best SATA SSD.
All of this power means a lot of extra heat. That's why Western Digital also gives you the option of buying the Black NVMe SN750 with Heatsink. No matter which version you buy, you can still benefit from the included Western Digital Black dashboard that allows you to swap in and out of Gaming Mode.
Seagate FireCuda 510
Seagate FireCuda 510
Buy Now On Amazon
$188.99
The Seagate FireCuda 510 is a step down from the 520 series, however, it's much more balanced in terms of price and performance. The read/write speeds top out at 3,450/3,200MB/s, which should help your PC perform under heavy load.
Seagate promises that its FireCuda 510 NVMe SSD can sustain a total of 2,600TBW (Terabytes Written), which should last you a very long time. The five-year warranty is another added bonus.
ADATA XPG SX8200 Pro
ADATA XPG SX8200 Pro
Buy Now On Amazon
$128.79
The ADATA XPG SX8200 Pro is one of the only NVMe SSDs on this list that can actually compete with the Samsung 970 EVO Plus' intimidating specs. Surprisingly, it matches up to the EVO Plus read/write speeds of up to 3,500/3,000MB/s. Not to mention that the ADATA XPG SX8200 is 625 percent faster than ADATA's average SATA SSD.
In addition to the NVMe drive itself, you'll also find an XPG heatsink included in the package. The heatsink comes with pre-applied thermal paste, so you can easily install it if you want some extra cooling. For Samsung-level performance and a complimentary heat sink, the ADATA XPG SX8300 Pro is a fantastic budget option.
Corsair Force Series MP600
Corsair Force Series MP600
Buy Now On Amazon
$194.99
If you're itching for an NVMe SSD with outstanding performance, look no further than the Corsair Force Series MP600. This robust (and pricey) drive comes with read/write speeds of up to 4,950/4,250MB/s, making it the most powerful PCIe 4.0 SSD to date.
Unfortunately, not everyone can benefit from this drive's incredible speed—only those with AMD Ryzen systems can experience the mind-blowing speed of the Corsair Force MP600. Right now, the AMD X570 is the only chipset that supports the previously-mentioned PCIe 4.0, which means that Intel fans will have to play the waiting game.
Addlink S70
Addlink S70
Buy Now On Amazon
$149.99
The Addlink S70 is another powerful, yet budget-friendly NVMe SSD. Its steady performance and quick read/write speeds of up to 3,400/3,000MB/s, make it a viable option for any gaming build.
An endurance of up to 800TBW ensures that the Addlink S70 is worth your money, while its five-year limited warranty gives you that extra peace of mind.
Improving Your Computer's Speed With an NVMe SSD
If you happen to have an extra PCIe slot on your motherboard, there's no reason not to install an NVMe SSD. These drives are becoming the new norm, and will continue to dominate the market as technology advances.
Now that you've found your next storage upgrade, you might want to consider upgrading your RAM as well. Make sure to check out our list of the best DDR4 RAM to improve your PC's performance.
Read the full article: The 7 Best NVMe SSDs for Faster Performance
Have you ever wanted to buy multiple outfits, but haven't had the time, money, or excuse to do so? Do you remember playing dress-up as a child, trying on lots of different outfits?
Then you might be interested to know that there is an entire category of mobile fashion games that let you try on new clothing. Albeit virtually. So we have rounded up a list of the best fashion games on Android and iOS, all of which are available for free.
NB: There are a lot of games available in this genre, but we've picked the ones that maximize immersive gameplay and customizable fashion choices.
1. Covet Fashion
Are you looking for a basic dress-up game that acts as a really great introduction to the genre? Then you need to try out Covet Fashion, a popular fashion game on Android and iOS.
Free-to-play with in-app purchases, this trendy, Barbie Doll-esque app focuses on the glitziest, most glamorous fashion currently available on the market, with looks from real-life designers and brands. Covet fashion is split into levels, with each level offering a series of challenges where you style your "doll" for a particular event.
Other things to note:
Successful styles earn you money, diamonds, tickets, and clothing-related prizes. You can then use these items to dress up your doll for the next fashion challenge.
Every time you finish dressing up your character for a challenge, and you click "I'M READY," your look goes before a panel of other users who vote on it.
You can gain more coins by acting as a judge for other people, too.
Overall, Covet Fashion is a great introduction to online dress-up games. It's also very easy to play, with countless new looks to try.
Download: Covet Fashion for Android | iOS (Free, in-app purchases available)
2. Fashion Fantasy
This is a game that, while fun, does have some more "interesting" musical choices. Basically, if you love country music, and you're looking for a narrative game with lots of pretty dresses, then this is the fashion app for you.
Free-to-play with in-app purchases, Fashion Fantasy takes the "fantasy" idea and runs with it.
The Setup:
Many hundreds of years ago, a war for the "fashion crown" wrecked havoc on a mystical land.
The crown came with a curse that could only be broken by the power of "true beauty" and its ability to conquer evil.
In the current era, this war for the crown has been forgotten. You play a rich girl named Lizzy, living in a palatial mansion. You're also doted on by your big brother, Lucas, who looks to you as a "fashion muse."
Through a series of tasks—starting with dressing up for your brother's big homecoming bash—you must help your character climb the fashion ranks to travel the world, try out new clothes, and potentially receive the best-dressed crown. You do this by collecting gems and coins through competing in fashion contests.
Overall, if you're looking for an app that places its story on the same level of importance as the fashion, then this is a good game to check out.
Download: Fashion Fantasy for Android | iOS (Free, in-app purchases available)
3. Love Nikki – Dress UP Queen
Are you a fan of anime? Do you want to dress up in alternative fashion? Love Nikki – Dress UP Queen is for anyone who wants to look like they stepped out of an animated show.
As a narrative mobile app, Love Nikki makes it known right from the get-go that this dress-up game comes with a very complicated backstory. You're also going to have to sit through a cut scene for that backstory right away.
The Setup:
In this make-believe world, you play Nikki, a young woman blessed with a superior fashion sense.
To win the game, you must work your way across seven countries to try out different clothes from different stylists, earning points through successive fashion styling tasks.
Like the other games on this list, by winning these contests you gain diamonds, gold, and experience. This helps you buy new clothes to progress.
Love Nikki adores its pinks, pastels, and hyper-girly aesthetic. However, its inclusion of a fantasy backstory and its attention to detail makes it stand out from the crowd. We recommend checking it out if you like your mobile apps with an anime aesthetic.
If you're interested in other anime-related recommendations, check out the best anime sites on the web.
Download: Love Nikki – Dress UP Queen for Android | iOS (Free, in-app purchases available)
4. Super Stylist
Super Stylist is one of the best dress-up games on the Apple App Store and Google Play Store, as it really takes this genre of gameplay to the next level. Despite its somewhat generic graphics, we were really engaged with the game itself.
The Setup:
In Super Stylist, you play a young woman who wants to start her own styling shop. Through designing outfits for clients, battling other users, and acquiring new items, you can build your way up to the top of the fashion tier.
Perks of this game that deserve a mention:
When you start the game, you get to design your stylist's looks from head to toe.
The way the game is designed makes it clear that the creators are well-versed in current online culture and fashion trends. You're even allowed to post your character's looks to a fake "social site" within the game. On this social site, other people can like the outfit.
Super Stylist has a leaderboard that will show you how you rank against other players in the game.
Your in-game currency comes from cash and gems, which you can acquire by either watching ads or by winning challenges. You can then invest some of this money back into your business.
Overall, while Super Stylist has a few too many ads for our comfort, they're not so annoying that we wouldn't recommend this app. The game is very fun, very customizable, and very immersive, with a focus on current trends.
Download: Super Stylist for Android | iOS (Free, in-app purchases available)
Play Dress-Up With These Fashion Games
Looking good doesn't have to be expensive, so long as you have one of these fashion games installed on your smartphone.
And if you consider yourself a fashionista, you should check out YouTube's fashion section for videos covering the latest fashion, style, and beauty trends.
Read the full article: The Best Fashion Games to Play Dress-Up on Your Phone